Posted: 21/04/2010
Filed under:
Music
| Tags: Simian Mobile Disco, SMD, Smirnoff Experience, twats, Vice
Leave a comment »
The crazy funking remix-masters formally known as Simian Mobile Disco today announced that they no longer want to be referred to as Simian Mobile Disco, but instead should be addressed using the acronym, SMD. The name change is said to be the result of increasing concern regarding the inaccuracy that they are neither simians, nor do they provide the mobile disco service they once offered.
The pair are gearing up for their biggest ever live show at Smirnoff Experience Berlin. An event which will also serve as the début for a light show, although they were keen to stress that it will in no way resemble a mobile disco.
---
Posted: 02/02/2010
Filed under:
Uncategorized
| Tags: Joanna, Newsom, Skins, Vice
Leave a comment »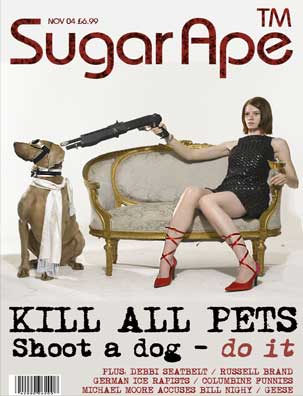 I hate to focus solely on one artist, especially the same artist for two days running. So I'm not gonna mention that Joanna Newsom has just released a second song, 'Good Intentions Paving Company' here. Oops. Sorry. I like it. Joni Mitchell anyone? Think the album's gonna be huge. I foresee swathes of hatred directed at Newsom from fans, such as me, who'll say she's selling out. It was bound to happen though.
Speaking of selling out, I'm now a Vice affiliate! I'm sorry, but also not. I've been assured that I'll not be asked to asked to compromise my writing, and I'll get invites to all those Skins-esque drug fuelled parties populated by under-age girls taking mephedrone. If it's lame, I'm outie.
---